The Textile industry is changing; will you take advantage of it?
How efficient is your printing operation?
Have you ever wondered if there is a better way to print?
For a screen-printer that wants to improve targets, growth and print quality, the question must be: What is the simpler way to adapt?
Looking at the context it´s easy to understand why online commerce has grown exponentially. The textile industry has changed alongside it and therefore the way of selling also adapted. This has a direct impact on the way production is planned and executed. More and more, smaller runs are being requested by retailers and fashion is faster than ever.
With shorter runs being demanded by the market, the traditional screen-printer will be less productive and less profitable due to more setups and different printing jobs.
Where do you stand in this ever-evolving world?
In truth, it is fairly easy for any printer to take advantage of these global changes. As the world evolves, printers must evolve with it.
Traditional screen-printing will always have a place and a reason to exist but that doesn't mean it will necessarily be the most effective way to do it.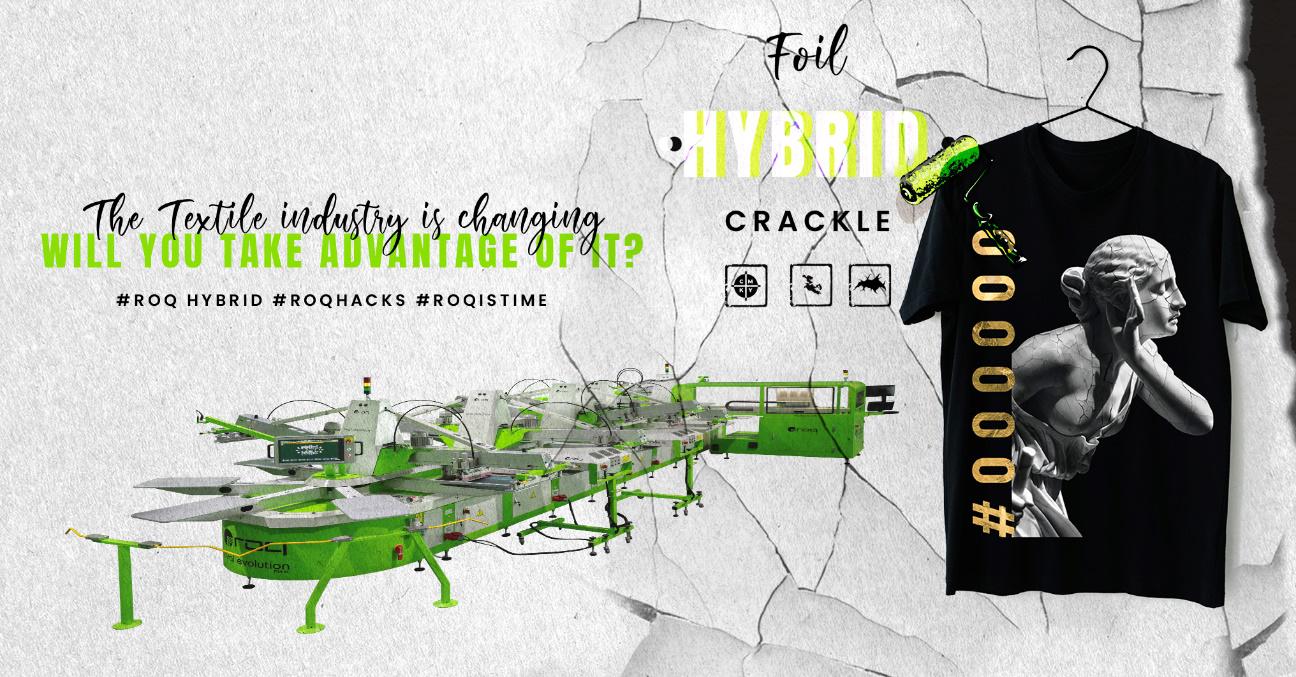 Welcome to the new age of Print
There are a few key points to take notice of in order to strive for more productive printing in this new world. A few challenges that need to be answered:
To print with better definition
To make faster setups
To use less screens
To use less film
To have a print with better quality
To reduce the number of non-conformities
And all of these challenges need to have an answer that is simple to use.
The perfect answer for the perfect storm
Our hybrid printing technology has the answers you need.
It works by printing the base and the white using the screen-printing technique and leaving all the colour (CMYK+2) to digital printing.
By having a combination of these two techniques, you can have the speed of screen printing dealing with the white and the bases. This brings more advantages than meets the eye. For complex printing jobs you will only need 2 or 3 screens. This means you will save screens, the engraving process, film and hours of work. The outcome of all of these savings is that you will have better-quality printing. By printing the colour in digital you will have access to a larger colour gamut, resolution options and outputs that simply are not available in traditional screen-printing, while keeping its flexibility. This flexibility is demonstrated by the sheer number of techniques you can add such as foil, flock, glitter, crackle, or any other to a digital print.
ROQ Hybrid is the platform that allows you to take on all of these challenges with ease. Digital printing is in a different league when compared to traditional screen-printing. The ROQ Hybrid was designed having this in mind. Its maintenance is simple and easy. There is a learning curve in order to be proficient with the ROQ Hybrid and its brand-new software, however, the gains are largely worth the investment when the only alternative is to be a master screen-printer. By going through the latter route, there are lots of skills that need to be owned such as: squeegee angles, squeegee pressures, screen registration, mixing colours, etc. There is a ton of knowledge that is needed to be proficient in screen-printing. The ROQ Hybrid, by digitally printing, makes the whole process faster, simpler and automatic. With the automatization of the printing process, you become more consistent and you will produce less non-conformity pieces adding value to your time and work.
The gains of evolution
By adopting this technology, you will be adapting your operation to this new world. On the day-to-day operations you will have less costs, you can train people faster, output higher quality prints, have less non-conformities and above all, the fact that the setup time is shorter allows you to make more jobs in a shorter amount of time, making you more productive. This way you will be in tune with the new reality of the textile industry.